FEDERAL
VOA
In 2018, Voice of America (VOA) looked to Mobomo for the redesign and migration into Drupal for a platform that can support 50+ languages. Our goal was to create a single drupal theme that provided each news outlet with the ability to customize their site. In early 2019, Mobomo helped relaunch VOA English as well as multiple language sites in the following months.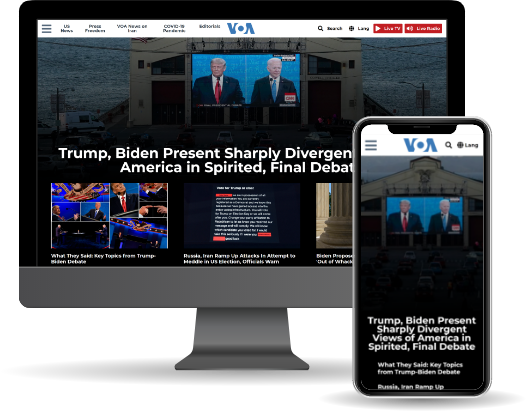 In 2018, Voice of America (VOA) looked to Mobomo for the redesign and migration into Drupal for a platform that can support 50+ languages. Our goal was to create a single drupal theme that provided each news outlet with the ability to customize their site. In early 2019, Mobomo helped relaunch VOA English as well as multiple language sites in the following months.
Voice of America is a U.S. multimedia agency that serves as the United States government institution for non-military, external broadcasting. VOA is the largest U.S. international broadcaster providing digital, TV, and radio content around the globe, capable of supporting 50+ languages. The goal is to deliver news to citizens that live in countries with a limited form of freedom of the press.
WHAT WE DID.
For the implementation of the new VOA redesign and migration, Mobomo led and orchestrated three key phases to the successful launch of the new platform. These phases included:
Discovery
During this 6 week phase, the business analysts, UI/UX designers and engineering team technical leads met with the news division heads for 6 key languages to observe the development and evolution of stories within the publication. This turned into weekly sessions to gather feedback around the tools being developed.
Redesign
Mobomo's experience with responsive design led to the discovery that the content management interface within the existing CMS was preventing effective journalism. We developed an internal Drupal theme that streamlined CMS usage for journalists, while highlighting key features needed within the news cycle.
Migration
While Mobomo migrated VOA from their custom .NET based CMS to Drupal 8 on top of Acquia SiteFactory, Mobomo used 18F UI Standards as reference and then customized to the needs of the client.
We led the authorization of the Voltron Platform and documented the details of the controls to which Mobomo would maintain responsibility.
REDESIGN NEEDS.
VOA wanted a new content management system that provided structure and flexibility to all its properties to help support effective journalism. Mobomo applied our user-centric design process of discovery, ideation, design, and validation. Delivering a drag and drop content management system that increased publication efficiency while providing customization of each new channel. Expanding the reading experience with new technologies and visual design, which we validated through user testing.
IMPROVED CONTENT DISCOVERABILITY.
To improve the VOA site's navigation, we removed barriers to their last content management system, making it easier for users to explore the many sections and content on each site and providing better access to radio and video programing. Also, the new design allowed users to seamlessly jump between other language sites, increasing content discovery.
In achieving this, Mobomo utilized mega menus in order to provide the flexibility and real estate to showcase available sections and programs in just 1 click. Next, we took the same approach displaying all 50+ languages' sites in one view without requiring a complete page refresh. Ensuring our approach, we tested over 40 users around the globe. Now readers can toggle between sites and quickly dive into sections of their interests.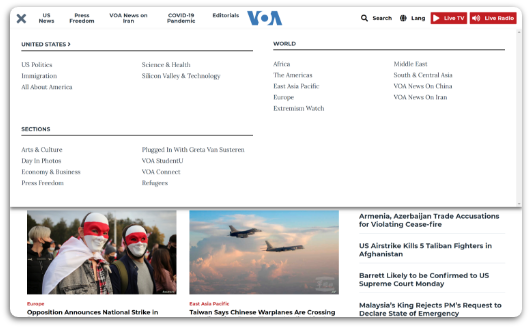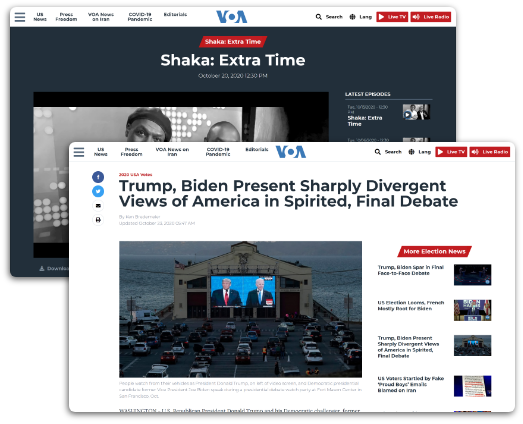 AMPED UP THE READING EXPERIENCE.
Voice of America wanted to boost up the aesthetics and legibility of the site by utilizing today's widescreen monitors and access to high-quality imagery. By offering more interactive capabilities, we were able to keep readers engaged while able to scale back for audiences with limited internet access. Lastly, Mobomo applied VOA's new brand identity to keep consistency across all mediums.
Mobomo took on this task by revamping multiple templates to capture visualization and full bleed imagery. Modeling them off custom-coded templates, content editors build for outside their original CMS by creating full-screen widgets that editors can drop in areas on any templates and by implementing mix media galleries to add 360 capabilities. This took the new design to new levels on interaction and visual appeal.
CREATED A FLEXIBLE PAGE BUILDER.
Flexible structure was a key goal for VOA to maintain consistency while offering the ability to be customizable. Providing each news outlet the ability to build their front page and sections the way they want to while staying consistent with the VOA brand. By offering a variety of templates, editors could drag and drop various news feeds and can filter what is shown.
Implementing Panelizer gave content editors the capability to toggle page layouts with editable sections. With custom news widgets, editors can filter, sort, and order content anywhere in these layouts. This allows content owners to select, build, and publish layouts based on their current needs and gives VOA ability to maintain brand structure and flexibility required for their 50+ languages capability.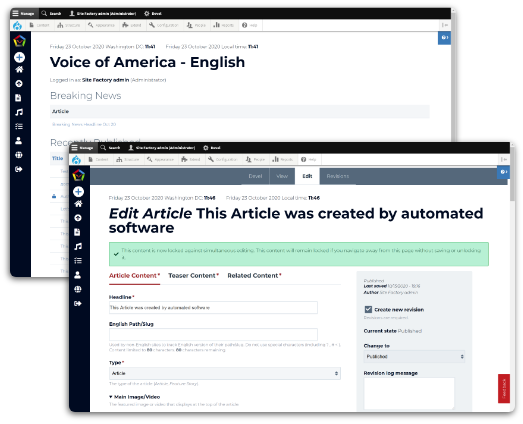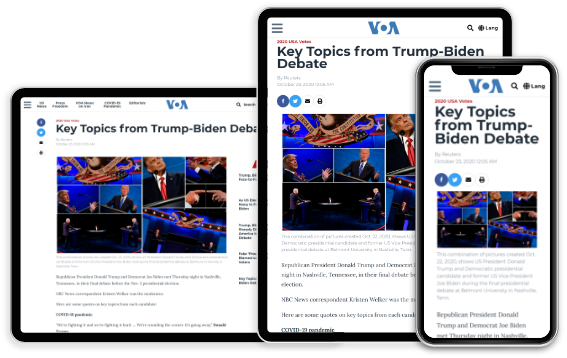 DELIVERED THE NEWS ACROSS EVERY DEVICE.
Voice of America focuses on providing content to the masses, from smartphones in remote areas to desktop computers with high speed internet access. It is essential to VOA to deliver a lightweight responsive theme that was able to adapt to the limitations of the users.
Mobomo ensured that the new design was responsive and lightweight for remote users to access any content on the site. From widescreen monitors down to mobile smartphones, Mobomo user-tested to validate the designs. Moreover, Mobomo always takes steps to ensure our designs and code are up to today's 508 standards and practices and the new redesign is accessible to all users across any smart device.
CONTENT MIGRATION
In order to facilitate content for over 50+ languages globally, Mobomo worked extensively with VOA stakeholders to understand not only technical hurdles but also the cultural and regional challenges. During the discovery phase, a technical evaluation and analysis of the existing proprietary CMS showed that the previous information architecture was overly complicated. To simplify the process, Mobomo transferred the current files into the Acquia hosted SiteFactory infrastructure upon which Voltron is built. A process was developed to ensure backups were securely shared over the VPN via chron so continuous synchronization of data streams could occur.
Leading the authorization of the Voltron Platform inherited from the Acquia FedRAMP PAAS, Mobomo documented the details of the 37 controls to which VOA maintained responsibility. To maintain security and functionality of the new platform, code scanning occurred initially with continuous integration support.
A dashboard for alerting and notifying of any new events was developed to provide continual awareness to the operations developers. Additionally, Mobomo created and implemented Configuration Management Plans and successfully simulated Operations scenarios.
RESULTS.
Mobomo successfully migrated and redesigned VOA's platform to have a flexible and user-centric design.
This design has allowed for improved maintenance and management of the overall platform, including monthly usability testing and enhanced analytics. VOA business owners can continually optimize and remediate any necessary changes to the CMS based on their business needs.
The overall work Mobomo developed and produced has helped support VOA's overall mission to deliver news to a global audience by creating a platform that meets those audience's needs.
ELEGANT
SOLUTIONS
START
HERE.
Content-rich websites. High-performance mobile apps. Bulletproof cloud solutions. Bring us your toughest challenge and we'll show you the path to an elegant solution.
Contact Us