IMPAC
T‍

™.

INNOVATIVE MOBOMO PROCESSES AND COLLABORATIVE TEAMWORK
IMPACT‍™ is Mobomo's proven and adaptable Scaled Agile Framework (SAFe) governance process that was created to address the primary problems faced by large-scale agile software development projects, including coordination, scalability, and communication. The design enables alignment of multiple teams, balancing of rigorous ad-hoc sprints, and the ability to weave in experimentation and exploration of emerging technologies.
The process was developed using over a decade of experience providing agile DevSecOps enabled solutions for large-scale federal government customers. IMPACT's foundation is based on SAFe® for Lean Enterprises 5.0, Kanban, and Scrum best practices; augmented with Mobomo's CMMI Dev Level 3 and ISO 9001:2015 continuous improvement initiatives to constantly enhance staff, product quality, and customer value.
CMMI Dev Level 3
CMMI is a capability framework that provides organizations with essential elements of effective processes, ultimately improving their performance over time. At maturity level 3, the organization is performing at a level categorized as "Defined", where processes are well characterized and understood.
ISO 9001:2015
Mobomo's certificate was issued by Intertek, a Total Quality Assurance provider that has helped companies ensure the quality and safety of their products, processes, and systems for 130 years. The certification is applicable to user experience, design, mobile, web and cloud development services provided to businesses, government and non-profit organizations.
Impac
t‍

™ promotes:

Scalability in staff and agile teams

Aligment of cross-functionality teams

Continuous value improvement through data-driven quality measurements

Flexibility to accommodate ad hoc and emergency requests

Introduction and integration of emerging technologies into all project teams
THE PROCESS.
Mobomo embodies a culture that focuses on shipping quality products quickly and efficiently. The agile development methodology at Mobomo is built specifically on User-Centered Design, DevOps, Security, Accessibility, Training, Testing and Documentation.
01
AGILE METHODOLOGY.
Each IMPACT‍™ Team follows Mobomo's standard CMMI Dev Level 3 / ISO 9001:2015 Agile Software Development Methodology for all of their products. We employ "sprints" where user stories are developed and implemented to deliver a functioning production-quality product. These sprint iterations are refined every week, building on each other to hit each major milestone, and ultimately a launched product.
02
USER-CENTERED DESIGN PROCESS.
User-centered design (UCD) is a vital part of the IMPACT‍™ iterative product development process. The Mobomo Team is recognized for ouroutstanding achievement in applying user-centered design techniques to launch award-winning Drupal websites across every major vertical market. As illustrated in the figure below, IMPACT‍™ creates opportunities for delivery teams to learn from users and stakeholders in each phase of our UCD process.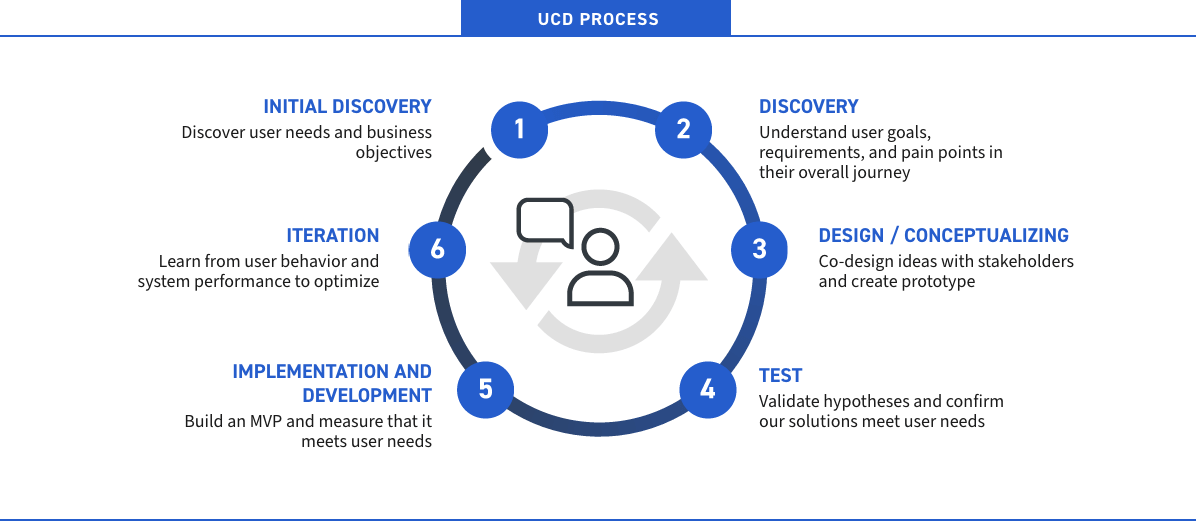 03
DEVSECOPS.
Finally, DevSecOps is key to IMPACT's success in not only designing and deploying award-winning solutions, but also ensuring the system is deployed in a manner that leverages automation to reduce the cost of operations and maintenance. Our team ensures that the monitoring, operations, and maintenance of applications are automated and seamless. Deployments to the production environment of both features, upgrades, and patches to operating systems, libraries, and applications are done frequently. We use a "blue / green" deployment process where the entire application is deployed from the infrastructure layer up from scratch. This can only be accomplished through automation.
In addition, all developed source code as well as infrastructure-as-codescripts are maintained in a Git-based source code repository supporting full labeling, branching, versioning, and change process management.
THE SECRET TO SUCCESS
While the overarching process and approach is very important to make IMPACT‍™ come to life, we wouldn't have such success without our governance model that leads our team interactions.
Below you will see a depiction of exactly how this works: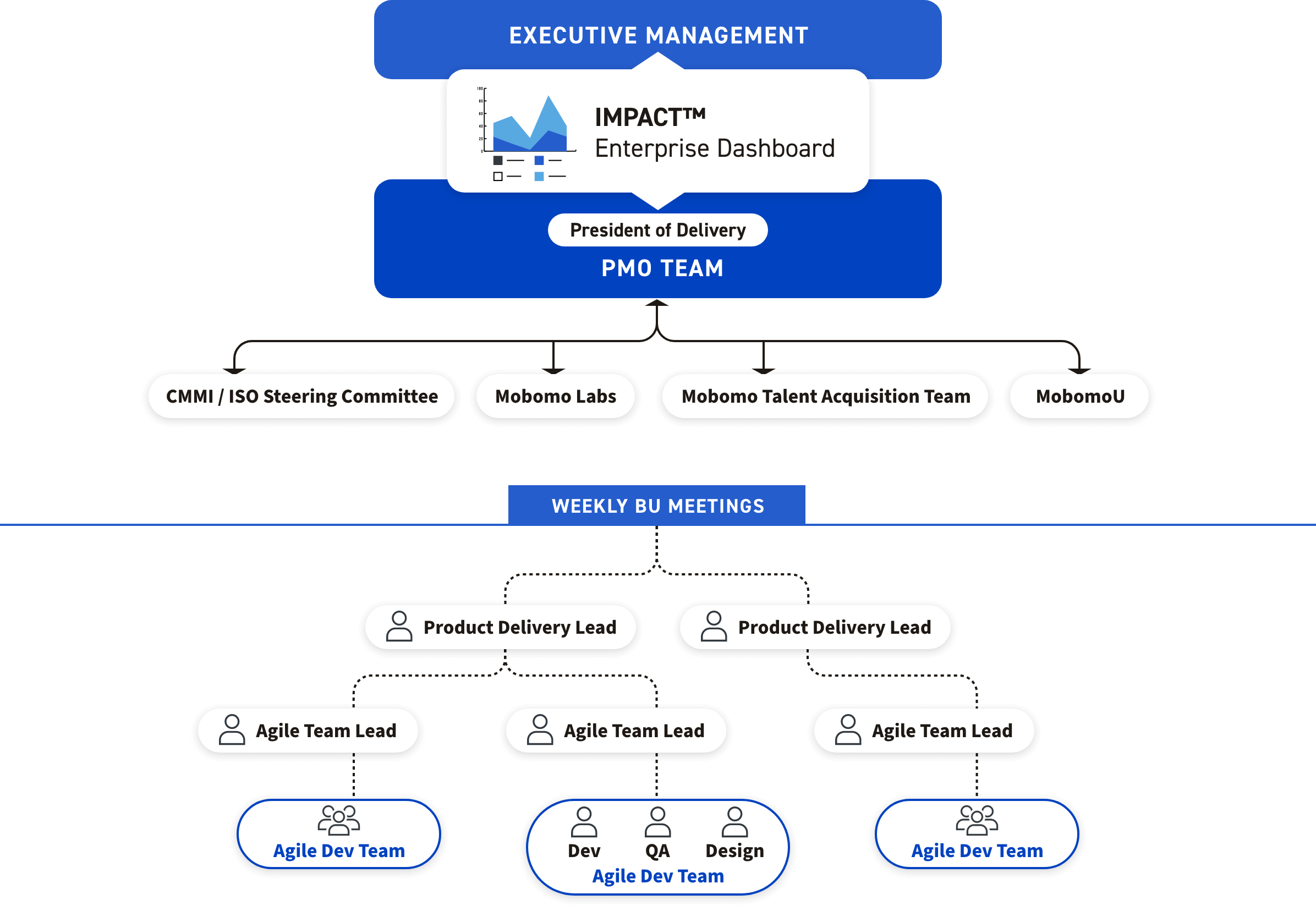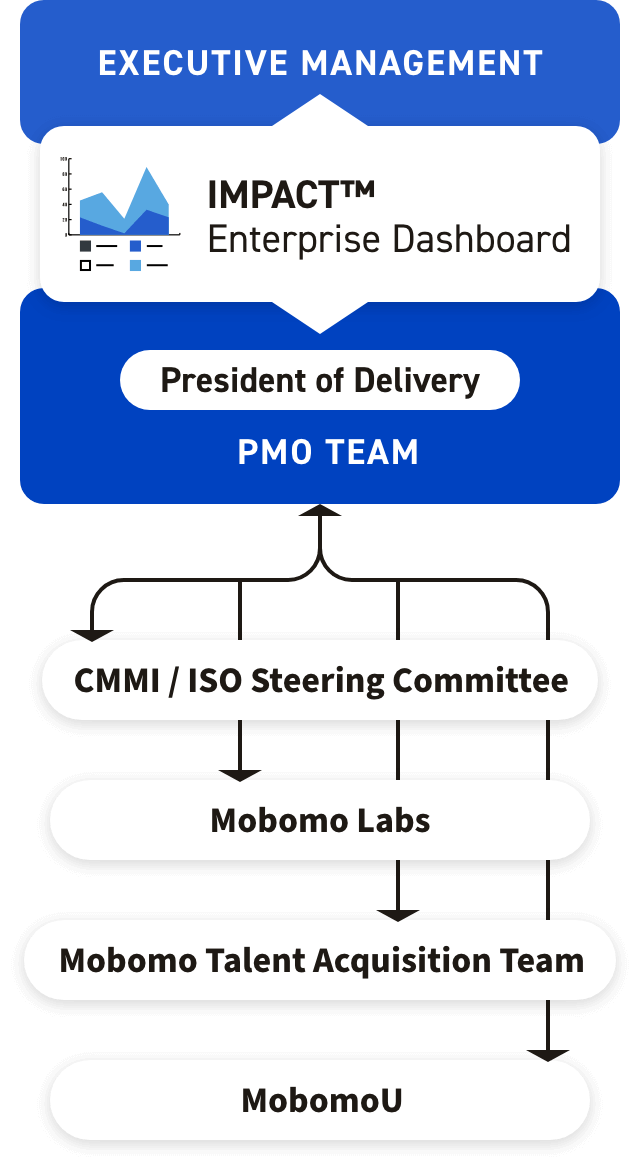 Our proven IMPAC
t‍

™ Governance model is key
1.

Mobomo's corporate executives meet weekly with the IMPACT‍™ PMO to review the IMPACT‍™ dashboard. This time is used to decide on strategies to ensure product delivery, quality and customer satisfaction. The collaboration between executives and the PMO allows direct access to corporate resources to deploy to projects as required for scaling, surging, or emergency/ad hoc requests

2.

Next, the IMPACT‍™ PMO will work closely with the CMMI/ISO Steering Committee to communicate best practices, lessons learned and enterprise process across teams. The committee will in turn provide recommendations to incorporate the standard CMMI/ISO projects.

3.

Mobomo Labs is our corporate innovation arm developed to invest and learn about new and emerging technologies. Throughout a project, the IMPACT‍™ PMO will collaborate with this team to offer our client innovations that have a high potential return on investment (ROI).

4.

The IMPACT‍™ PMO also works closely with our Talent Acquisition (TA) team to ensure all projects are properly staffed. Our TA team has strong relationships at colleges, trade schools and communities of practice. The IMPACT‍™ PMO coordinates resource discussions via weekly business unit reviews to ensure that the Project Delivery Leads work with clients and the TA team to anticipate staff requirements as well as fulfill immediate surge staff needs. The TA team guarantees cultural and technical alignment with individual customers as well as Mobomo's standards.

5.

Lastly, Mobomo University is an onboarding and continuous training program that ensures all staff are trained in the IMPACT‍™ CMMI/ISO processes and procedures; have the appropriate formal training and certifications required for each task; and receive access and insight into what would be considered tribal knowledge to each and every level of the organization.
Our Customers Receive
High Quality
High Productivity
High Initiative
and Ownership
High Collaboration
High Innovation
High Creativity
Through IMPACT‍™, the entire Mobomo organization is involved with standardizing winning strategies and discarding useless, low-ROI practices bringing the dexterity from high-performing projects to the whole company. The staff is well versed in the process enabling them to be cross-functional and move easily between projects without losing momenoum.
As such, IMPACT‍™ has demonstrated faster delivery, improved quality, increased customer satisfaction, and better staff retention across all of our customers.
Our Work.
Our process is one that turns your ideas into awesome products. We take pride in each step of our process and want to be the partner that launches your next digital solution. From healthcare, education, real estate, and more - we have been able to design and develop solutions for some of the biggest brands.
Our team has helped relaunch www.NASA.gov with a dynamic, user-centric, mobile-first design, providing a simplified user-friendly experience for all site visitors.
See How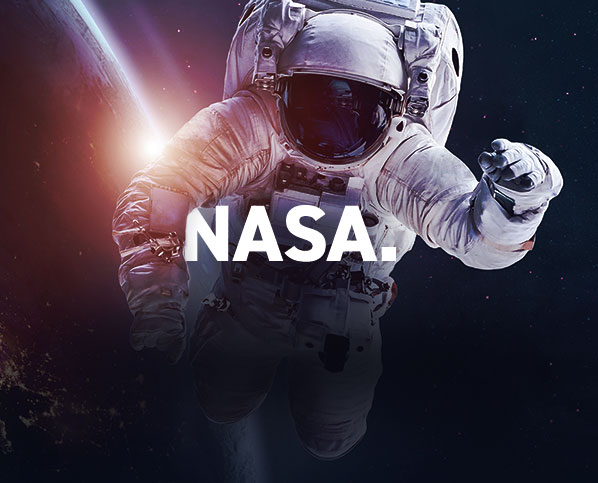 Mobomo partnered with NOAA Fisheries to assist in restructuring and redesigning their digital presence, merging all their core web properties into one Drupal site. Within one year, we launched the framework for their next generation www.fisheries.noaa.gov.
See How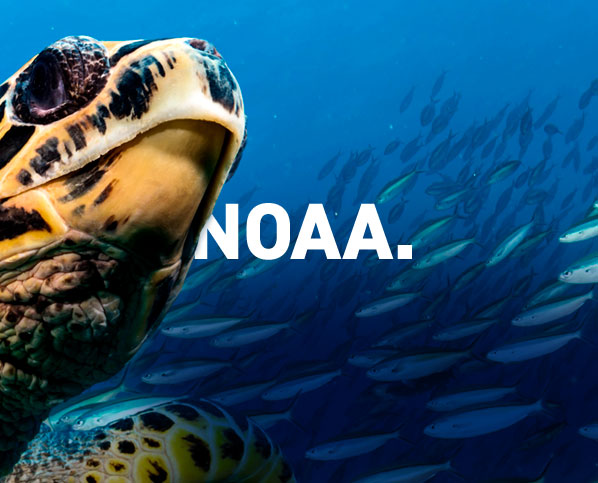 ELEGANT
SOLUTIONS
START
HERE.
Content-rich websites. High-performance mobile apps. Bulletproof cloud solutions. Bring us your toughest challenge and we'll show you the path to an elegant solution.
Contact Us