DRUPAL MIGRATION
BLUEPRINT.
Drupal 7 and 9 are on life support. Will you be ready when they pull the plug?
SUCCESSFUL MIGRATIONS
NEED A STRONG PLAN.
Mobomo's Migration Blueprint has proven invaluable to our customers, delivering a comprehensive analysis that streamlines the migration process, removes hurdles that typically result in scope creep, and eliminates surprises that can increase costs and project completion timelines.
WHAT THE MIGRATION BLUEPRINT PROVIDES?
Module Report
Contains a migration path to the latest version of Drupal for all your modules. Our team will define if it needs an upgraded version of the existing module or a similar one. We will also provide a strategy around any deprecated function usage for custom modules.
Content Model Report
Contains an overview of your site's content types, users, roles, permissions and taxonomic vocabularies with each field reviewed by an expert. Our industry leading recommendations will improve the model when migrating.
Integration Report
Contains a catalog of all third-party integrations used and designate which have an existing contributed module from the community. Our team will highlight and plan around those that will require custom work to integrate with the new Drupal system.
Theme Development Report
Identifies key elements of the theme that are required to be rebuilt in the latest version of Drupal. This includes global components such as the header and footer along with the number of templates that will need to be built. Additionally, this will contain our design experts' recommendations regarding the responsiveness of the current theme and what improvements need to be made.
Migration Estimate
Most importantly, the Migrations Report will provide an accurate level of effort and timeline to complete your migration to the latest version of Drupal successfully. We guarantee it.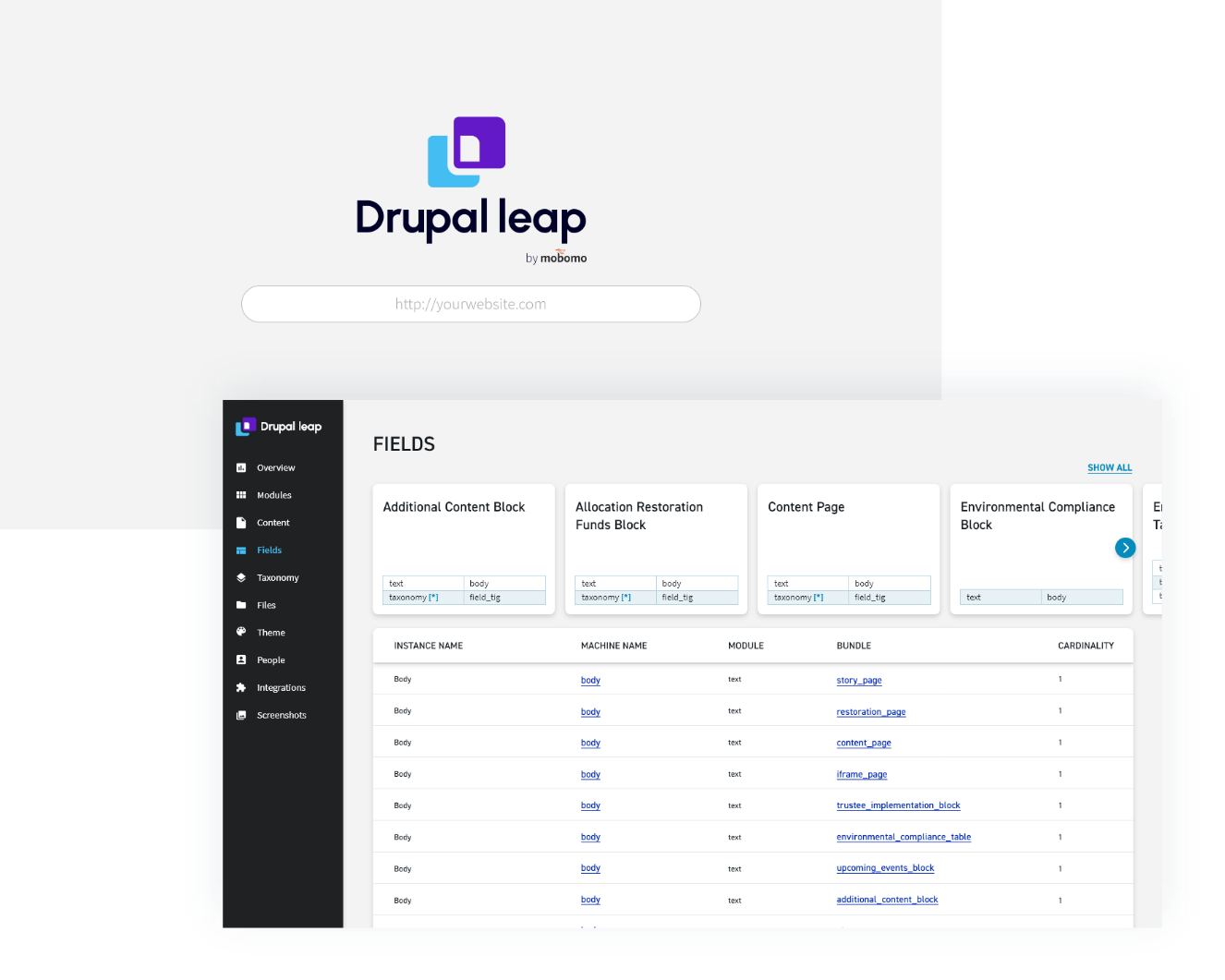 how do we build migration blueprints?
Saves time and increases accuracy
Drupal Leap automates the website analysis process, delivering a comprehensive overview of a site's current status in a user-friendly dashboard that helps developers assess the level of effort needed, identify potential migration challenges, and solve barriers/issues proactively before the migration process begins.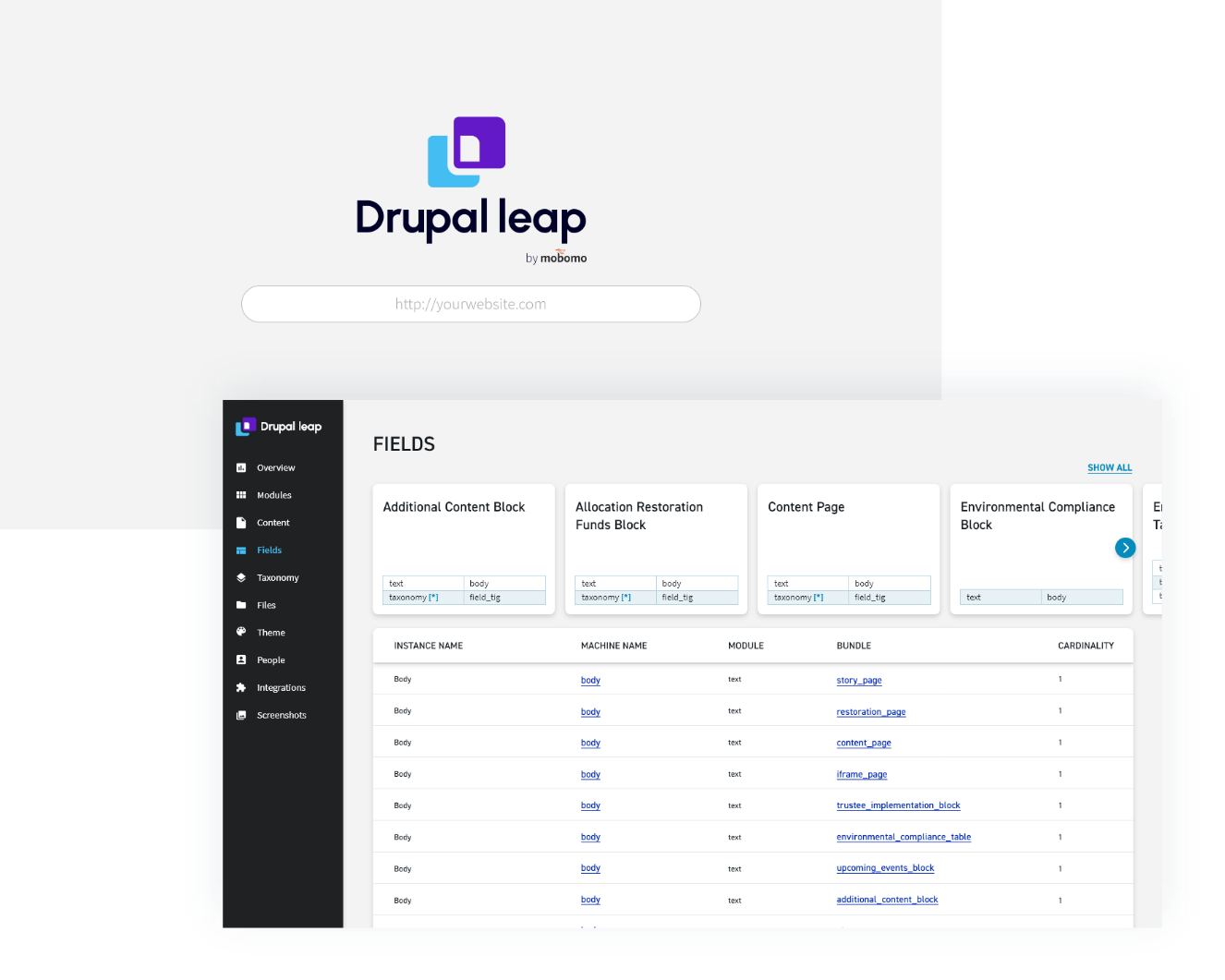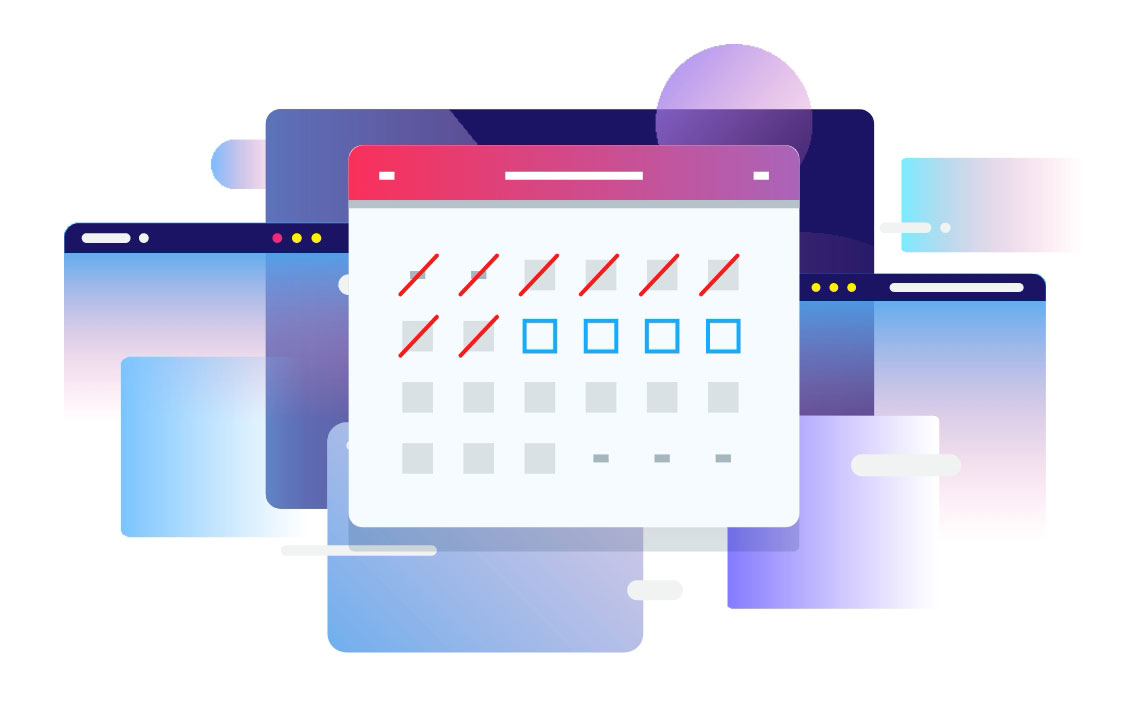 Why is a blueprint needed?
Without mapping your existing site and creating a roadmap for how to upgrade it, you could easily run into roadblocks that are not easy to remove, causing completion delays, and these things can, and usually do lead to increased costs associated with the extra effort needed to remove these impediments.
The team at Mobomo is comprised of highly qualified, SME-level Drupal developers that you can depend upon to upgrade your site efficiently and cost effectively.
LET US DO THE HEAVY LIFTING FOR YOU.
You may be wondering to yourself – "How much time will it take?" "What costs can I anticipate with this type of project?" "What resources do I need to dedicate to this process?"
You're right to be asking these questions. There's a lot to think about when working on a large migration like this, but let us make your lives a little simpler.
Mobomo is ready and able to consult and help you audit your site to prepare for the upgrade. Our team of experts will provide you with a detailed report of the status of your site and a suggested migration plan. This all-inclusive report will be your one-stop shop to knowing the best steps to make your migration seamless.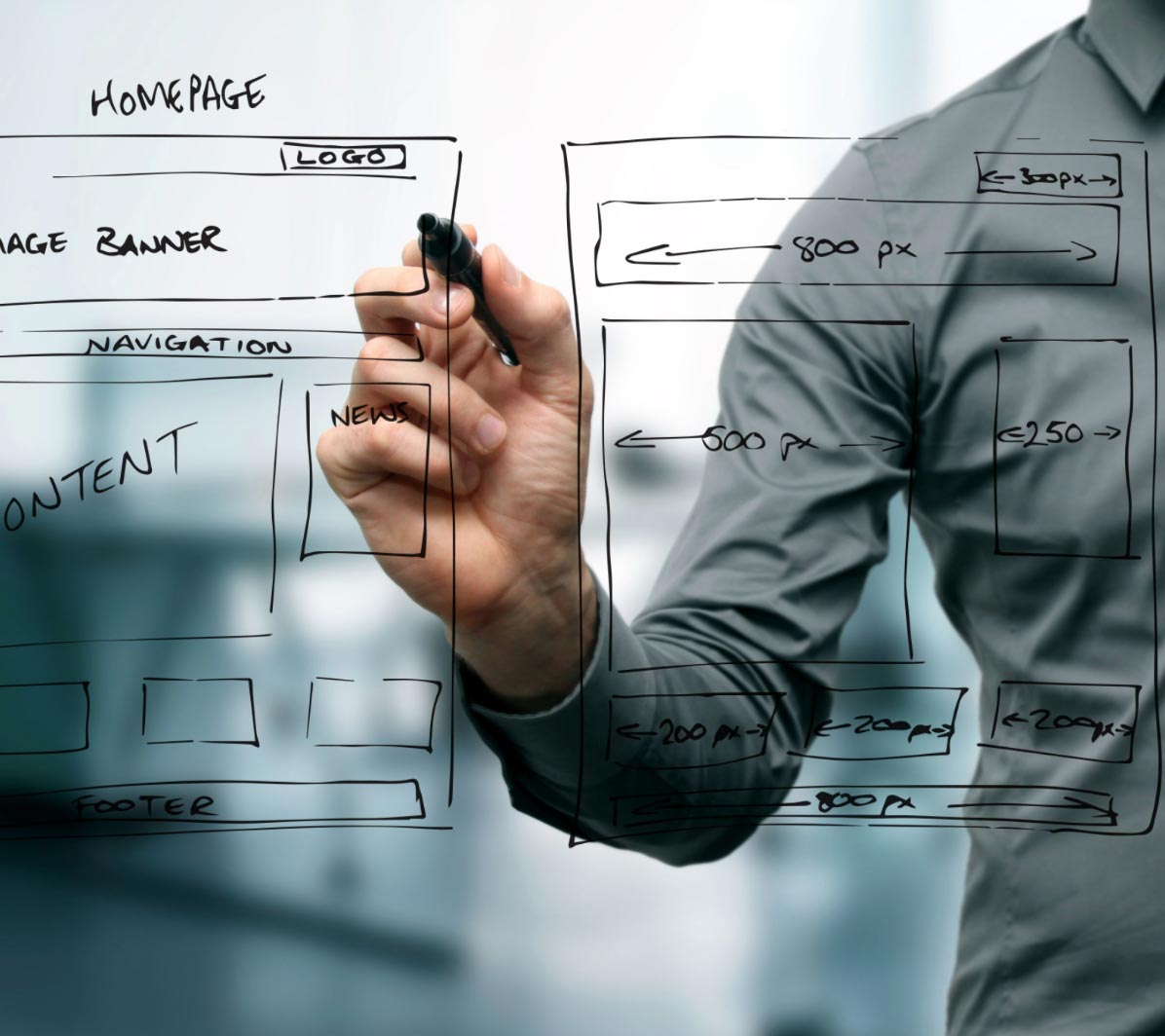 DELIVERABLE
Award Winning Drupal SME
Providing Migration
Blueprint
Let's work together: