Lark is an administrative theme for Drupal 8 and 9 that expands the Claro theme by addressing two usability issues that we noticed from working with our clients: quickly finding content and quickly publishing content.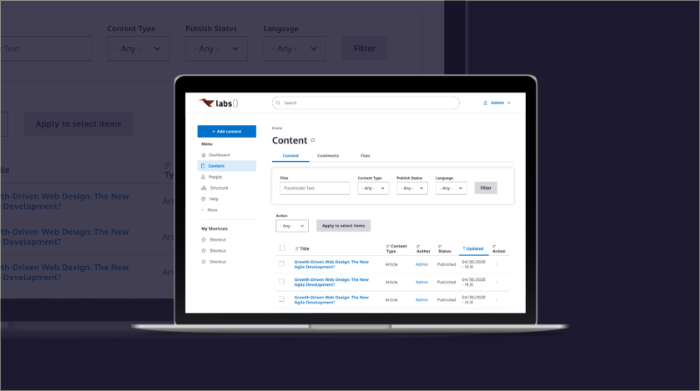 The Drupal administrative interface can be a daunting place for new editors to quickly learn without training. In our design process, we looked to the clear UI of Google's GMail to create general familiarity and directness for new Drupal users. We added a clear action button to create content to direct editors straight into the content types available and made the shortcut links more visible to the editors for quick access to their most used links.
Lastly, we incorporated a site search field right into the header, giving editors a clear and accessible way to locate content quickly.
We've used our own client projects as a testbed for testing the Lark theme and the response has been highly positive. As we progress in development, we'll be continuing to refine, improve, and enhance the theme with new features like the ability to configure the color scheme and optionally collapse the sidebar for better focus and readability.
Lark is currently available via Drupal.org at https://drupal.org/project/lark and development takes place primarily on the project's GitHub page: https://github.com/mobomo/lark.
USAGE INFORMATION
Installing
The Lark theme installs like any other Drupal theme. The typical process is to add Lark to your composer.json file by running composer require drupal/lark, and enabling the theme. If you're using drush, you can do this via: drush then lark, otherwise, the theme can be enabled by visiting the Appearance section in Drupal and enabling it. Once the theme is installed, visit the Appearance section and select Lark as the Administrative theme.
Notes
The Drupal ecosystem is a big place, and Lark is still progressing, so compatibility with contrib modules may be limited. Our 1.0.0 releases should handle the majority of core Drupal interface elements, and compatibility issues with various modules are being handled over time. If you find an issue, please submit an issue to Lark's GitHub page.
https://github.com/mobomo/lark